If you have any questions at any time, please don't hesitate to contact us at 866-465-3766
We understand that arriving at a chiropractic office for the first time can be nerve racking. If you've never experienced chiropractic care before, you may not know what to expect when you come to our Pembroke Pines chiropractic office for the first time. Filling out paperwork, learning new faces, and getting to know your way around the office can be an overwhelming experience.
That's why at Goldson Spine Rehabilitation Center, our aim is to remove any unnecessary stress or tension and make you feel comfortable during your visit with our chiropractor.
In this area of the website, you will be able to take care of the items necessary for your chiropractic visit prior to arriving, in the comfort of your own home. If you have any questions at any time, please don't hesitate to contact us at 866-465-3766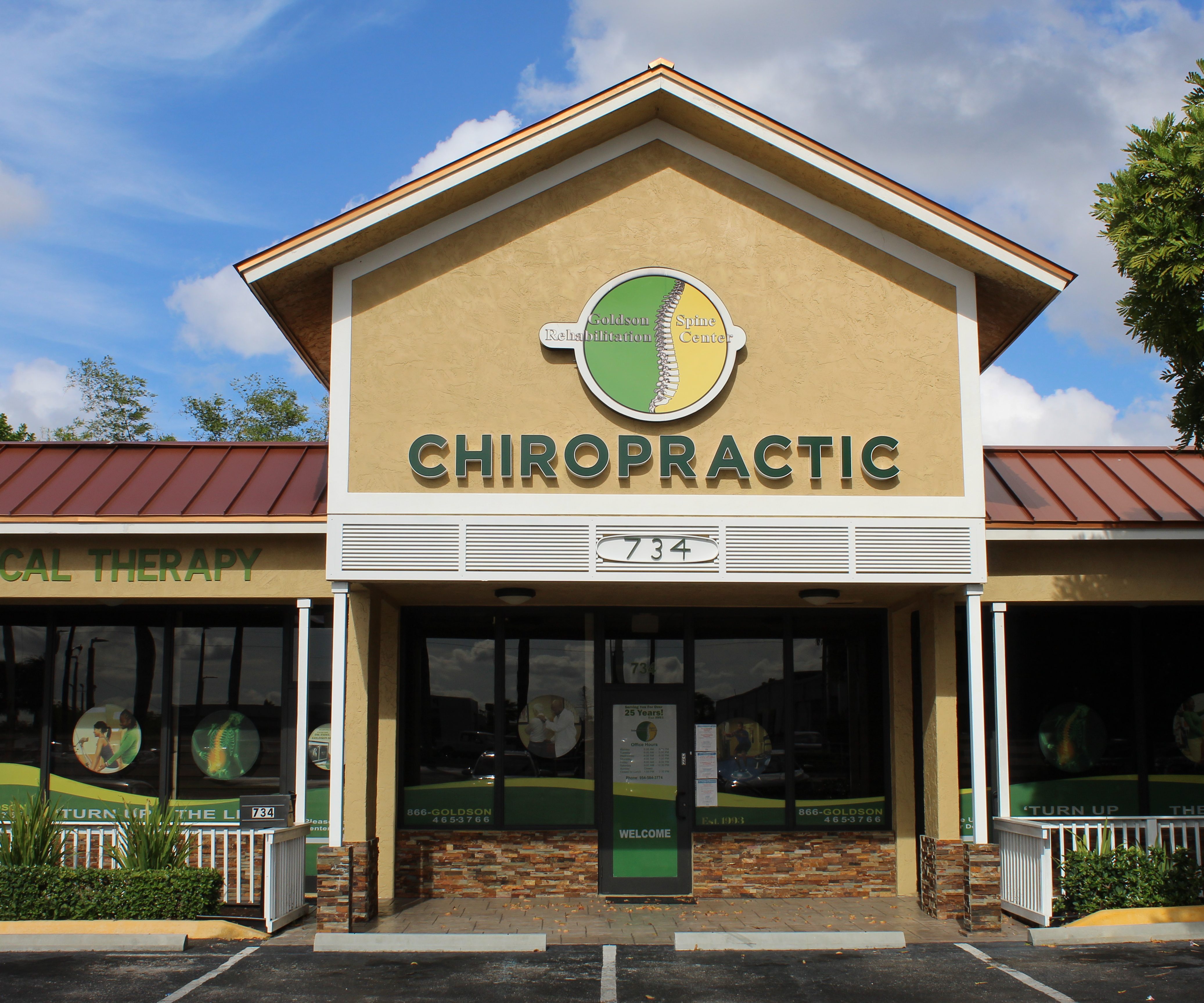 1. Patient History and Symptoms
Be prepared to fill out patient history forms and give information on your symptoms and condition. To make this easier for you we offer an electronic form that can be filled out online.
Patients are usually asked to provide information on family medical history, any pre-existing medical conditions or prior injuries, and previous and current health providers and treatments.
One of the most stressful aspects of living in modern life is dealing with the fallout from an auto accident. If you have been in an accident you will need to provide detailed information on what happened and provide insurance info if applicable.
We have a highly skilled staff who will help with your insurance questions and forms.
2. The Chiropractic Exam
A thorough consultation includes general tests such as blood pressure, pulse, respiration, and reflexes, as well as specific orthopedic and neurological tests to assess:
Range of motion of the affected part
Muscle tone
Muscle strength
Neurological integrity
The most common diagnostic studies during chiropractic exams include:
X-ray exam
MRI (Magnetic Resonance Imaging) scan
Other laboratory tests
Many chiropractic clinics can perform basic X-rays, but an MRI scan and more extensive imaging studies are usually referred to an outside center.
Ask Questions
Feel free to ask questions regarding the chiropractic examination, diagnosis, and treatment program. Asking questions will help both you and your doctor with your recovery:
How long will it take to get well?
What type of diagnostic testing is needed?
Will I need care from other health care professionals?
What are the side effects and possible complications of the process, if any?
What type of patient education do you provide?
After Effects of Treatment – Post Visits How Will I Feel After My Session?
Most people, you will feel more relaxed and less concerned. Many people find they breathe more fully. Some patients continue to move and stretch in various ways to release any tension they may be holding. Begin working on changing chronic tension patterns.
You May Feel Sore?
Adverse effects are typically minor and brief in length. The likelihood of initial soreness or increased pain after a chiropractic adjustment is similar to starting an exercise program. There are several ways you can speed up the healing process after a chiropractic treatment.
To promote healing after an adjustment.
Drink plenty of water
Use an ice pack on the treated area (for any swelling or redness)
Try light stretching exercises
Sleep on a suitable mattress
Avoid heavy lifting
Refrain from intense physical exercise for at least 3–5 days
Eat a balanced diet
Scheduling A Follow Up Session
Patients sometimes make the mistake of receiving treatment once and then fail to follow up with their chiropractor for the recommended treatments afterward. For optimal results, you should complete a treatment plan.
Goldson Spine Rehabilitation Center believes in the value of chiropractic care for you and your family toward the goal of achieving total health and wellness. Therefore, we have created a pricing structure that is flexible enough to allow you to get the chiropractic care you need, no matter what your budget. Our chiropractic office participates in most insurance programs, but please call us at 866-465-3766 if you have any questions about whether you can use your insurance to pay for your chiropractic care. We also accept auto accident and workers compensation cases that result in back pain, headaches or other symptoms which can be addressed with chiropractic care. For patients who have little or no chiropractic insurance coverage, flexible payment programs can be arranged. To learn more about our payment options for chiropractic and wellness care, you can call our Pembroke Pines chiropractic office directly at 866-465-3766 and one of our friendly staff will be happy to answer all your questions.
Insurance
Most insurance plans are accepted at our chiropractic office. We accept auto accident, workers compensation, personal injury cases that have resulted in back pain, neck pain, headaches, or other related pain conditions. We also accept most health insurance plans, including Medicare. Because there are so many insurance plans out there, and because coverage for chiropractic care varies widely, please call us to find out if your plan covers care in our office. Before you start a chiropractic care plan, our staff would be happy to verify your benefits and explain them to you at no charge.
No Insurance
Our goal at Goldson Spine Rehabilitation Center is to allow everyone to experience the benefits of chiropractic care and adjustments. For patients who have little or no chiropractic insurance coverage, we can work with you to arrange a flexible payment program that fits your budget. If you have no insurance or if your insurance does not have any chiropractic benefits, there are still ways for you to receive the pain relief and chiropractic care that you need. Many patients choose to pay directly for their visits with the chiropractor, especially as they discover that chiropractic care is actually extremely cost-effective and affordable. For these patients, chiropractic care is often cheaper and more effective than alternative pain treatments such as pain medications or invasive surgery.
Family Plans
Our focus at Goldson Spine Rehabilitation Center is to actively help you and your family in taking responsibility for your total health, wellness, and disease management. Our chiropractor will assist and guide you as you take the time to care for some of the most important people in your world: you and your family. In an effort to make living the wellness lifestyle as easy and affordable as possible, we can create a customized family chiropractic plan that is specific to you and your family.
Health on a Budget with Chiropractic Care
At Goldson Spine Rehabilitation Center in Pembroke Pines, we are convinced that chiropractic care will help you stay healthy and pain-free, using only a small amount of your time and money. Our chiropractic health professionals will help you care for your most important asset–your health. We truly believe the prevention is the best cure, and regular chiropractic care will be far less time consuming and expensive than trying to recover from pain or an injury after it's happened. If you feel you do not have enough time or money to take care of yourself, please contact us at 866-465-3766–we can help! The last thing we want is for you to come to our chiropractic center in crisis. So please, we would like to encourage you to take your health very seriously. As the old saying goes, if you don't have your health, you don't have anything. Unfortunately, too many people don't discover how true that statement is until it is too late.